Trademark filing  provides practical information on trademark filing and registering a trademark.  How to trademark a name and trademark online are covered.
Patrick Newman
Hi I'm Patrick.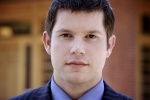 I write about intellectual property, copyright and trademark matters from practical business experience.  I am a member of the licensing executives society international.  I also  have an MBA and a degree in engineering.
I enjoy  briefing trademark professionals on the business results that I and my clients want from trademark filing.  I also write for ipandcopyright.com , trademarkfiling.org.  I am currently writing an ebook for trademarkfilingforbeginners.com to help everyone easily navigate through the process of trademark filing, registering a trademark, and to trademark a name.
About
Trademarkfiling.org is in development to provide practical easy to understand guides, products and services to help you understand and source: trademark search, online trademarking, and trademark filing process.
Along with the practical experience, we'll source expert advice on trademark filing, trademark search, how to register a trademark and to trademark a name.
Purchase the Trademark filing basics ebook and you'll be on our list to receive the latest news and information on trademark filing to assist your business, maximise revenues from your brand and to protect your trademark.